20 FUN WAYS TO HELP KIDS PACK IN MORE FRUITS & VEGGIES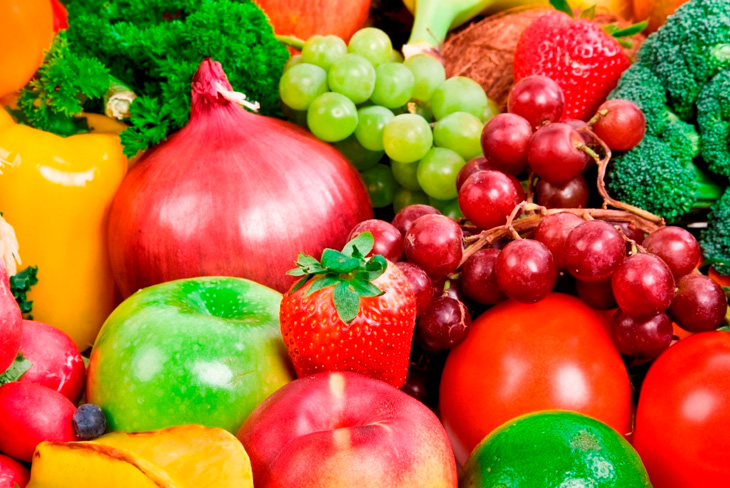 Add to the basics. Encourage your kids to find ways to add more fresh fruits and veggies to traditional entrees like burgers. Slice up fresh tomatoes, lettuce, onions, avocadoes or grilled pineapple during your next barbecue for burger toppers.
2. Let kids play with their food. Set aside a night to be silly. Have kids make food creations (bell peppers and potatoes make a good "head" for adding facial features like a carrot nose, yellow squash sliced eyes, cauliflower hair and a red pepper smile). Invite a few neighbourhood friends over and have the kids create to their hearts content.
3. Use cookie cutters for added fun. Let your kids cut their produce into shapes for added fun on pizza or just to eat raw. Bell peppers in a variety of colors are a great veggie option and watermelon is a fun fruit to use this way.
4. Have fun with fondue. Melt cheese or chocolate for a kid-friendly snack or movie night treat. Sweet fruits like strawberries, cherries, bananas, apples, pineapple or dried apricots make good chocolate dippers, while carrots, celery, green pepper sticks, mushrooms, broccoli and cauliflower go great with cheese fondue.
5. Wrap it up. Substitute lettuce leaves for tortillas in your favourite taco recipe. Prepare meat, cheese, chopped tomato and shredded lettuce as you normally would, then tuck it inside a couple lettuce leaves for a healthful alternative to taco shells or tortillas. Red leaf, green leaf and romaine varieties of lettuce have more nutrients than iceberg.
6. Have a smashing good time. Make cooking fun by having your kids help with the prep work, like allowing them to smash cooked potatoes with a hand masher.
7. Visit a farmers' market. In summer, bypass the local supermarket for a trip to a farmer's market for local and/or organic produce. Many vendors let you sample as you shop and some offer their own unique varieties that you won't find in large grocery stores.
8. Serve up special spaghetti. Teach kids now to add another serving of veggies to a homemade Italian meal by using spaghetti squash strings instead of pasta noodles with marinara sauce.
9. Go for garnish. Get your kids thinking about what colourful and healthful items will look nice as a garnish to their dinner plate. Use orange slices, a sprig of fresh herbs or a carved radish for extra eye appeal. After the pretty presentation, kids can eat their festive decoration.
10. Try a great grape refresher. Wash and dry several bunches of grapes (any colour) and stick them on a tray in the freezer for at least two hours. Then your kids can pull them out for a refreshing, healthful snack or dessert. (This snack is best for kids over age four – whole grapes can pose a choking hazard for younger children.)
11. Make your own salsa. Create a family tradition by letting your kids help make fresh salsa. Flavour the condiment with tomatoes, onions, garlic, green or red pepper, cilantro, jalapenos, lemon or lime juice, pineapple, watermelon or whatever tickles your taste buds.
12. Finish with a frozen treat. Instead of buying ice cream bars, stock the freezer with juice bars made from 100 percent juice for a quick summer treat.
13. Brush it off. Buy each child his or her own scrub brush for washing fruits and vegetables in their favourite color.
14. Stuff it. Use a rice mixture or bread stuffing to fill hollowed-out tomatoes or mushrooms for a main dish. Kids can help scoop out the seeds and pack in the stuffing.
15. Add pizzazz to pizza. For a low-fat, easy dinner have your kids use tortillas for a simple pizza crust and top them with sauce and your favourite veggies like peppers, onions and mushrooms, or create a classic like pineapple and ham pizza.
16. Take the "fry" out of French fries. Have your kids help you wash and cut potatoes into thin slices or steak-cut fries. Coat them with olive oil and dried herbs like rosemary for flavour and bake in the oven for a low-fat side dish.
17. Add colour to pasta. Anything goes with noodles, so have your kids cut their favourite vegetables into crazy shapes and toss them in with pasta and a light alfredo sauce for a quick dinner.
18. Tap into theme night. Pick one night a week for themed cooking – Mexican, Thai, Italian, Chinese. Let your kids experience the flavours of native produce from these regions in your cooking.
19. Boost brain power at the supermarket. Teach your kids to care about produce by focusing on a different item in the produce department each week. (What's the difference between a tangerine and a navel orange? What's more expensive, bagged or bulk potatoes? How many different brands of salad mix does the store carry?)
20. Keep it separate.
If your kids are picky eaters and don't like their food to touch, buy divided plates. Instead of serving a vegetable medley with dinner, serve two separate veggies – they'll get the same amount of produce and you won't have to field complaints.